Preserving the Legacy,
Investing in The future
The foundation is dedicated to supporting our agricultural youth in higher education and organizations, programs, and projects that enhance services and education to the rural community.
Our SCHOLARSHIP PROGRAM has grown far beyond expectations the past few years.  We currently offer, at minimum, 16 scholarships annually separated into 5 categories for an annual outlay of $50,000.  The categories are:
Milo Rypkema Memorial Scholarship One (1) $6000 scholarship to a high school senior attending accredited university or college, payable in three payments of $2,000 each over three years.
Category I    This Program awards five (5) $5000 scholarships to high school  seniors attending accredited universities or colleges, payable in two payments, $2500 each year over two years.
Category II    This Program awards four (4) $2000 scholarships to high school seniors attending accredited universities or colleges.
Category III    This Program awards two (2) $2000 scholarships to high school seniors attending accredited technical institutes or 2 year community colleges. (Award are underwritten as Kevin Casey Memorial Scholarships.)
Category IV    This Program awards two (2) $2000 scholarships to high school senior contestants invited to participate in the South Dakota High School Regional 20X Extreme Showcase.
Category V    This Program provides two (2) $2000 scholarships to high school seniors participating in the South Dakota High School Rodeo Association State Finals.
The Winners of the Category I,  II,  & III Scholarships will be selected in January of the new year and available for viewing on the BHSSF Website soon after selection.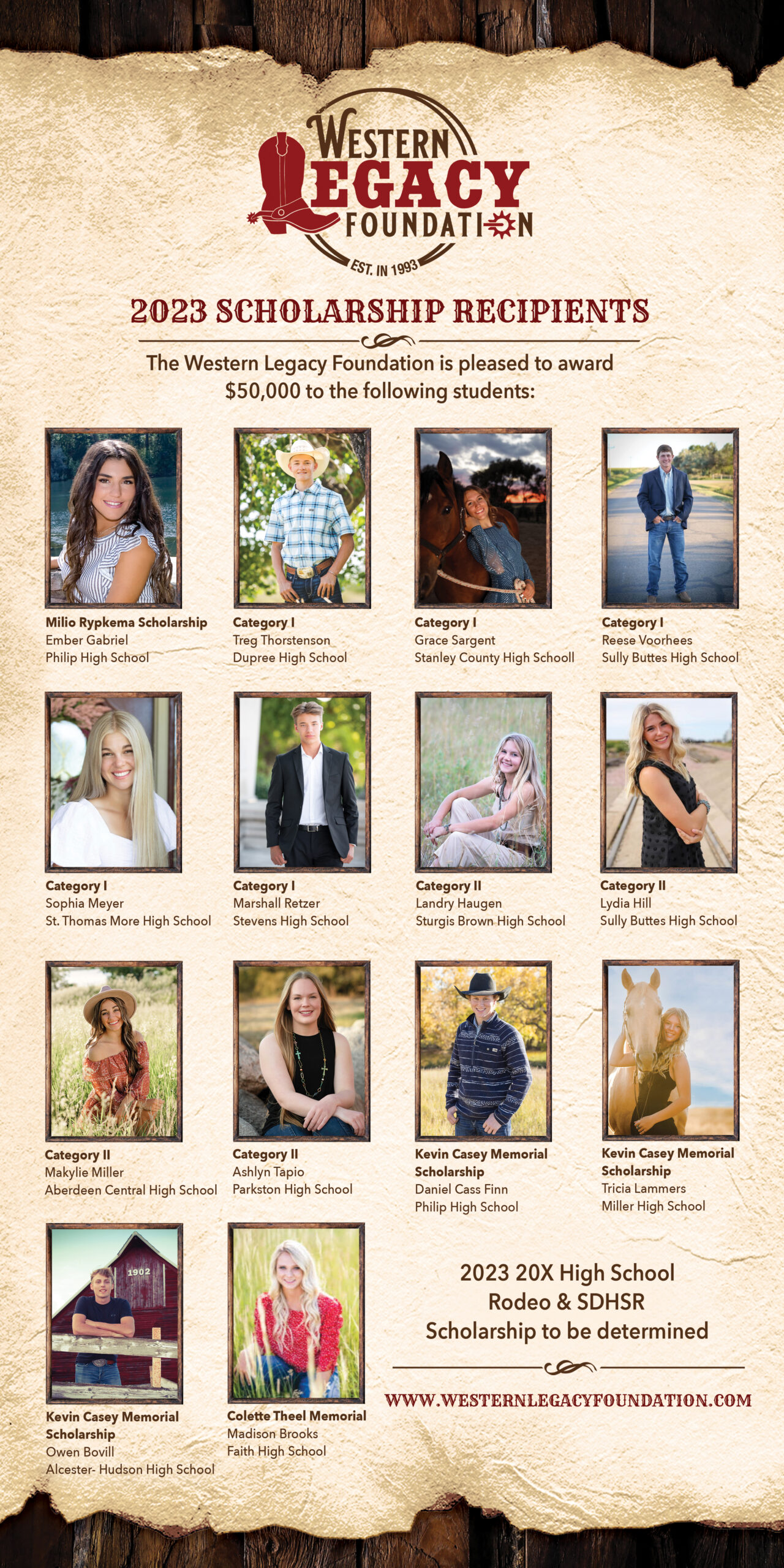 Western Legacy Foundation announces 2023 scholarship winners
The Western Legacy Foundation (WLF) was established in 1993 to administer youth scholarships and grant programs to benefit communities in our region and organizations that support the agriculture industry. The foundation is dedicated to supporting youth in high education by awarding over $50,000 in college scholarships. For more information on the WLF scholarship program please visit the website at www.westernlegacyfoundaiton.com.
MILO RYPKEMA MEMORIAL SCHOLARSHIP – $6,000 (paid over three years)
EMBER GABRIEL:  Ember Gabriel is the daughter of Jeff and Heather Gabriel of Quinn, SD. Ember will graduate from Philip High School where she is involved in National Honor Society, basketball, track, rodeo, FCCLA, student council FFA, and several other activities. She has held offices in many of the organizations that she has been involved in and is currently serving as the state vice-president for FCCLA. Her FCCLA advisor wrote of her leadership skills saying, "Ember is a dependable, responsible teenager always displaying a very positive attitude." Ember is also active in her church, serves on the Missouri Shores Youth Advocacy Board, and helps with several other volunteer programs.
In her essay, Ember wrote, "To me, the western way of life is working harder than anyone else, caring for everyone around me, and being a helping hand whenever I am needed. I will face adversity just like anyone else in the world, but what makes me different is how I handle that adversity." Ember plans to attend Mount Marty University and becoming an anesthesiologist.
CATEGORY I – $5,000 (paid over two years)
REESE VOORHEES: Reese Voorhees of Onida, SD is a senior at Sully Buttes High School and the son of Pat and Tacea Voorhees. Reese plans to attend South Dakota State University and become a veterinarian. He has been involved in football, 4-H, band, FFA, golf, baseball, chorus, National Honor Society, boys state, and has been class president all four years of high school.  He is a member of his church and has helped with several community activities. When writing about what western heritage means to him, Reese wrote, "It means honesty, integrity, dedication, and a willingness to work."
The senior class advisor and a staff member at Sully Buttes High School wrote of Reese's many characteristics and said, "These are just a few examples of the contributions that Reese has made to make his personal, school, and public community a better place for him and those around him."
SOPHIA MEYER: Sophia Meyer will graduate from St. Thomas More High School in Rapid City, SD and plans to continue her education at Creighton University. Her interest is in dermatology, and she wrote, "I want to practice rural medicine because I know every cowboy needs a good dermatologist who understands their lifestyle and does not make it a daunting experience."
During high school, Sophia has been involved in Interact Club, public speaking, debate, 4-H, rodeo, tennis, student council, yearbook, National Honor Society, and more. She has served as an officer for many organizations, president of her class for three years, and is currently president of the student body. As a volunteer in her community, Sophia has been involved in many activities.  One of her high school teachers wrote, "She (Sophia) immediately impressed me with her drive, confidence, integrity, and her commitment towards excellence, not only in her scholastic achievements, but in all aspects of her life." Sophia is the daughter of Susan and Jeffrey Meyer.
MARSHALL RETZER: Marshall Retzer is the son of Erin and Douglas Retzer of Rapid City, SD and is a senior at Stevens High School. Marshall plays soccer, hockey, and lacrosse, plays in the high school orchestra, is a member of National Honor Society, is active in his church, and has volunteered many hours to local charitable organizations. He started his essay with, "I am one of the lucky ones. I have had the amazing opportunity to grow up in South Dakota and have been constantly enriched by all that the land and rural lifestyle of our amazing state has to offer." Marshall plans to obtain a degree in mechanical engineering with an emphasis in biomedical engineering.
The Stevens High School counselor wrote, "He (Marshall) is an outstanding student, competitive athlete, generous volunteer, and a summer employee." He continued by saying, "he has shown us the importance of volunteer work in Rapid City. Marshall is a very motivated and dedicated individual."
TREG THORSTENSON: Treg Thorstenson is a senior at Dupree High School. He is the son of Justin and Julie Thorstenson. His science teacher wrote, "Treg is conscientious, courteous, and well-grounded in his community, in his ranching culture, and in what it means to be an upstanding American citizen. He is an example of American education done right."
Treg is involved in National Honor Society, football, student council, rodeo, 4-H, and church youth group.  He is also a student elementary aid and has held various offices in the organizations that he is involved in.  Treg plans to attend Black Hills State University to obtain a degree in secondary education. In his essay he wrote, "Teaching seems like the perfect avenue for me because there is always something new to learn and teach. Also, I will be able to guide my students towards a brighter future."
GRACE SARGENT: Grace Sargent is the daughter of Doug & Trish Sargent of Pierre, South Dakota. She will graduate from Stanley County High School. Grace will be attending South Dakota State University where she plans to double major in Agricultural Communication and Agricultural Leadership along with an interest in minoring in Political Science or Equine Science. She wrote, "Earning this double major degree means I can apply both of my passions to become an agriculture policy advocate. This way, I can stand up for the agriculture heritage that has been passed down through the generations, and protect the legacy that American was founded upon." Her agriculture teacher said,  "Grace has been actively involved with agriculture her whole life and aspires to be in the future as well. Grace has a great background in activities in both agriculture and leadership."
Grace is involved in volleyball, FFA, 4-H, SD Girls State, and track. She was a page for the 2023 legislative session, is active in TeenPact Leadership Schools, plays the piano for her church, and participates in many other volunteer activities.
CATEGORY II – $2,000 (one time payment)
LANDRY HAUGEN: Landry Haugen is a senior at Sturgis Brown High School and the daughter of Tyler and Dee Haugen of Sturgis, SD. Her activities include basketball, FCCLA, rodeo, student council, National Honor Society, Fellowship of Christian Athletes, Youth Leadership Group, and church youth group. Through these organizations and activities, Landry volunteers for various community causes. A Sturgis Brown High School math teacher wrote, "Focused and motivated are key descriptors of Ms. Haugen's work ethic. Landry is not satisfied with 'getting by,' but is always pushing herself to improve."
When writing about her western heritage, she wrote, "Heritage is who a person is, but also what they become. I will advance mine by walking my talk, by living by the golden rule, by remembering the principles of hard work and compassion that growing up in the western world has taught me."  Landry has been accepted into Mechanical Engineering in the College of Engineering, Architecture & Technology at Oklahoma State University and has also been accepted into the University of Wyoming.
MAKYLIE MILLER: Makylie Miller attends Aberdeen Central High School and is involved in National Honor Society and soccer. She is also active with the Salvation Army, church,  Boys & Girls Club, and helps at her former elementary school. According to her high school soccer coach, "Makylie is able to think straight under pressure while at the same time being mindful of others. She has exhibited a solid work ethic, desire to reach her potential, and a determined focus. She will always do the "little things" that lead to the big picture's success."
Makylie wrote, "One of the best ways to advance one's western heritage is through one's education and their career. I am passionate about achieving my goals and will stop at nothing to become an endodontist." She plans to start her post high school education by attending Presentation College to obtain an associate's degree in chemistry and a bachelor's degree in biology. Makylie is the daughter of Dustin and Becca Miller of Aberdeen, SD.
ASHLYN TAPIO: Ashlyn Tapio is the daughter of Nate and Elsa Tapio and a senior at Parkston High School. Following her high school graduation, Ashlyn plans to attend Chadron State College to major in Health Sciences: Pre-Veterinary Medicine. Ashlyn wrote, "Western Heritage is the deep history of those who came to a new, and unsettled land, to start a new life. The grit, determination, and perseverance of those first homesteaders is something that can and should still inspire us today."
Track, 4-H, FFA, band, choir, basketball, and National Honor Society are some of the activities that Ashlyn is involved in. She is also active in her church and is involved in several community volunteer projects. Her FFA advisor said, "Over the four years she has shown excellence both as a student in the classroom and as a member of the Parkston FFA Chapter. She sets high standards and expectations for herself and always rises to meet them." Ashlyn finalized her essay with this: western heritage "is a story of fighting against all odds, the persistence and resolve to build a better life, the vision of the future, and the struggle to obtain it.
LYDIA HILL: Lydia Hill will graduate from Sully Buttes High School. Her parents are Jody and Cherie Hill of Onida, South Dakota. Her high school athletic director wrote this about Lydia, "The way Lydia treats other people is so refreshing; she treats everyone with respect and kindness. She is an extremely well-rounded young woman, is a leader in our community and someone for young girls to look up to and aspire to be." Her activities include basketball, volleyball, cheerleading, track, rodeo, National Honor Society, FFA, drama, choir, band, student council, FCCLA, 4-H, church, and many volunteer activities.
Lydia plans to attend South Dakota State University to pursue a degree in Agricultural Communications and Journalism. In her essay she wrote, "This career will allow me to show to the rest of the world what the western livelihood and community truly stand for. These are the people I plan to represent in my broadcasting career."
KEVIN CASEY MEMORIAL SCHOLARSHIP – $4,000 (Technical School/one time payment)
OWEN BOVILL: Owen Bovill is the son of Mark and Karla Bovill. He is a senior at Alcester-Hudson High School and is involved in National Honor Society, football, basketball, baseball, track, FFA, FCCLA, 4-H, church, and other community activities. Owen wrote, "Living and working on the farm with my family has taught me many different skills and lessons. It has taught me to work hard and never give up. It has also taught me to be patient and calm." He plans attend Lake Area Technical College to become a diesel technician.
Alcester-Hudson's high school principal said this about Owen, "It is clear that he cares about his education and wants to set himself up for a successful future. He always greets others with a smile and 'hello' and is always the first person to step up when help is needed. Our school is better because of Owen."
TRICIA LAMMERS: Tricia Lammers attends Miller High School and is the daughter of Brady and Jaimi Lammers. Tricia's high school math teacher said, "Tricia is an individual who is not afraid of hard work and has learned the value in asking for help and putting in the extra time. She has a bright personality that allows her to connect with those around her, building a positive community. She genuinely sees the good in those around her and sees the best in any situation."
Her activities include National Honor Society, volleyball, basketball, track, rodeo, FFA, chorus, FCA, 4-H, and church. Tricia plans to pursue a health science degree at Central Wyoming College. She then plans to continue her education in radiology or veterinary technician. In her essay she wrote, "Kindness and respect are two more important skills I have learned because of my western heritage. I hope to bring these qualities of kindness and respect into my future career to be an example of our western heritage."
DANIEL CASS FINN: Daniel Cass Finn is a senior at Philip High School. His parents are Shad and Jenna Finn of Midland, South Dakota. Daniel plans to attend Lake Area Technical College to obtain a degree in diesel technology. He wrote, "My family has taught me what is important in life and now it is time to go out in the world and develop my skills. I look forward to preserving my western heritage by being a fifth-generation rancher on the Finn Ranch.
His FFA advisor wrote this, "Daniel has developed into a respectful and dependable person. He has shown a great work ethic in the class and shop settings and is always intrigued to learn new topics and skills." Daniel is involved in student council, rodeo, FFA, 4-H, National Honor Society, and church. He also assists with various community service projects.